Here's what you probably want to know about us . . .
We're Dynamic!
Or Shalom is a dynamic Conservative Jewish synagogue in London, Ontario that offers many meaningful religious, cultural, educational, and social programs for members of a variety of ages, stages of life, interests, and backgrounds. We're rooted in traditional Jewish values, but are constantly evolving to meet the needs of a modern congregation.
Or Shalom is an egalitarian synagogue in every way. Everyone is invited to grow religiously, both in practice and observance. We welcome the participation of all our members in whatever capacity they feel comfortable, including leading services, chanting a Haftarah, or receiving an aliyah. But, remember — there's no pressure! Also, our facilities are wheelchair accessible, providing ease of access to our sanctuary, social hall, and washrooms. We place importance on offering everyone a supportive community and a connection to all aspects of Judaism.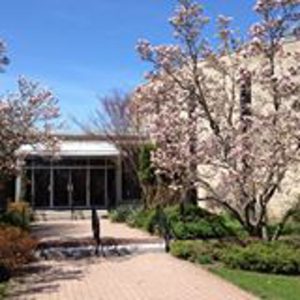 We're Socially-Conscious!
Or Shalom provides many programs focused on Tikkun Olam or "repairing our world." We supply food for those in need within our Jewish community, our London community, and Israel: our dedicated volunteers work at the London Food Bank, visit and cook for the elderly, ill (as directed by Rabbi Clark), and mourners, and transport seniors to synagogue and appointments. We also engage in an annual tree-planting, an event popular among members of all ages. We want to make a difference in the lives of others to fulfill g'milut hasadim (acts of loving kindness).
We're Kid-Friendly!
Or Shalom is family-oriented, with children actively involved in our services and programs. Our junior congregation regularly participates in Shabbat services and our junior choir adds to the beautiful sounds of the High Holidays. Our youth programs are social, fun, lively, entertaining, and educational. We recognize that kids often form their long-term friendships here, so there's a program for every child and teen to get excited about.
We're Adult-Friendly!
Or Shalom offers adult-education opportunities that are provocative and enlightening. Be it the stimulating sermons (which, by the way, are always short!), the interactive Shabbat and Sunday morning study sessions, or the mini-courses facilitated by the Rabbi or learned members, these educational experiences, for younger and older adults, alike, will be both intellectual and social — what a great combination.
We're Kosher!
Our facilities are kosher, with a meat kitchen in our main building and a dairy kitchen in the adjacent Anna Leff Youth Building. We take our food very seriously (we get that food is one of the factors for coming to shul!), so it's not only kosher, but delicious too. One of our favourite "social networking" activities is our Shabbat Kiddushim or luncheons, where we love to share some laughs with new and long-time friends.
We're Beautiful!
Our round sanctuary with a centre bimah is unique in its beauty, and provides an intimate environment for solemn prayer and festive celebrations. No sitting so far back that you don't even know what's going on — our round sanctuary allows everyone a "great seat" and a sense of belonging. And our spacious social hall boasts a lovely décor that is the perfect setting for all our social events.
We're Historical!
Or Shalom's history began in 1940 with the incorporation of the first Conservative synagogue in London, named United Jewish League. In 1944, UJL joined with B'nai Israel, an Orthodox congregation in south London, and assumed this name. In 1960, B'nai Israel moved to a new building at Huron and Adelaide streets, and, with its amalgamation with B'nai Moses ben Judah in 1966, Congregation Or Shalom was born. We are proud to be affiliated with the United Synagogue of Conservative Judaism.
We're Convenient!
Or Shalom is located at 534 Huron Street, just west of Adelaide Street, and is easily accessible by public transportation. By car, we're no more than 25 minutes from every area of the city, and no more than 10 minutes from Western University.
Or Shalom is part of a campus that includes the London Community Hebrew Day School, the London Jewish Community Centre, and the London Jewish Community Village, a seniors' apartment complex. Everything you need Jewishly is all on the same grounds, with free and ample parking. What could be easier?
Or Shalom has its own gift shop where you can purchase beautiful and practical Judaica and gift items. Treat a friend, family member, or yourself to one of our many menorahs, seder plates, mezuzot, and gourmet food items. It's one-stop Jewish shopping.
Or Shalom has The Anna Leff Youth Centre, which houses meeting rooms, a dairy kitchen, and a gym. Attached by a breezeway, the building is used on a regular basis by our Jewish youth and by a variety of fitness, sports, and dance groups (rental arrangements can be made by contacting our office at 519-438-3081).
We're Here for You!
Or Shalom encourages you to contact us:
Email: office@www.orshalomlondon.org Tel: 519-438-3081